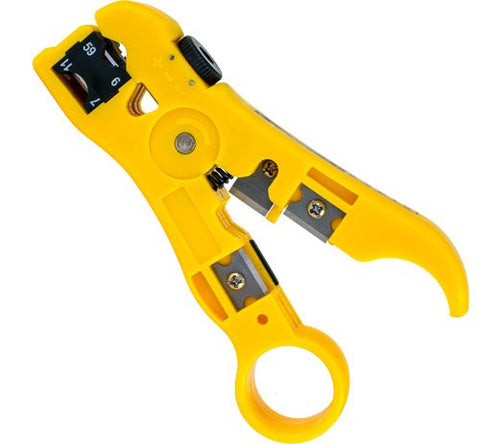 Universal Stripping Tool for RG59, RG6, RG7, RG11, CATs and Flat Telephone Wire
Item No:
Shipping:
* Add to Cart to check shipping cost!!
* Buy >$2000 get Free Shipping!
Discounts:
(Use your code in the checkout)
* Get 2% discount, code: 2%OFF
* Buy >$500 save 3%, code: 3%OFF
* Buy >$1000 save 4%, code: 4%OFF
This is a professional cable stripping tool for RG59, RG6, RG7, RG11, CATs, and for Flat Telephone Wires. This tool features a reversible cassette. The first side is for RG59/6 and the second side is for RG7/11. Its bright yellow color is easy to identify in dark locations.